At France Food, we are committed to making the quality department a real tool at the service of our customers, in order to offer them the healthiest fruits.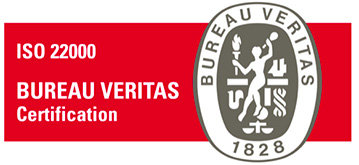 Acquiring the ISO 22000 standard is a voluntary process that we completed in 2018.
With this standard with extremely demanding specifications that goes beyond the wishes of the regulations, we guarantee the best food safety through a complete control of the traceability at all the stages of preparation.
The Aiguillon France Food site is IFS Food – Superior certified.
This international certification is an essential prerequisite recognized by European retailers.
It guarantees the offer of safe and healthy products through 325 control points such as:
the hygiene control in manufacturing, quality management, respect of traceability, or the hygiene of infrastructures.
IFS Food – Superior commits the company to a mission of continuous improvement, in particular respecting customer requirements.
In France, at our Aiguillon production site, we offer Global Gap certified fruits.
This standard, which concerns producers and their compliance with good practices in order to always improve food and environmental security, is also applied by many of our suppliers abroad.
At France Food we follow strictly very precise specifications to guarantee the total respect of the cold chain.
From transport conditions to storage and preparation, all the steps are carefully checked by our quality engineers.
The FEL Partnership is a specific approach to the Fruits & Vegetables sector, agreed by the French DGCCRF and in partnership with professional federations.
Whether you are an importer, exporter or wholesaler, the choice of a FEL Partner supplier gives you the guarantee that the means for an efficient control of the products are well implemented.
In addition to complying with legal obligations, this standard helps to meet the expectations of our customers in terms of health safety.
HVE certification corresponds to the highest level of the environmental certification system of agricultural holdings.
40% of our producers in France are HVE certified. We support the rest to qualify to this label.